Highlights
Malaika and Arjun share post denying breakup news
If someone falls in love with you at the age of 40, normalize it.
Bollywood actor Arjun Kapoor and actress Malaika Arora The news of the breakup has been making headlines. The couple had recently denied that the news of this breakup is false. At the same time, he has shared another post in which it is told that age does not end after 25, 30. How can you live your life?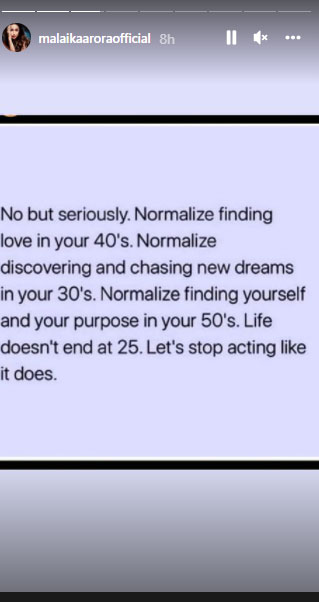 Malaika Arora Arjun Kapoor share a note after refuting break up rumors and write normalizing finding love in the 40s
Malaika Arora and Arjun Kapoor have shared a post on Instagram states. Which is becoming quite viral in social media. Talking about this post, it is written in it, 'No but really. Finding love at the age of 40, normalize it. Normalize dreaming and discovering new dreams at the age of 30. At the age of 50, achieve your life purpose and normalize yourself. Life does not end after the age of 25. Stop acting like it happens.
Farhan Akhtar and Shibani Dandekar will get the marriage registered on this date!
At the same time, Arjun Kapoor recently shared a beautiful picture with Malaika Arora after the news of the breakup came. Along with this, he wrote, 'There is no place for rumours. Be safe Be happy Best wishes to the people. kisses to all.'
Malaika commented on Arjun's post with a heart emoji.